Hp Bios Password Cracker V1.02 Download
Nowadays, HP Elitebook is popular because of its high quality as well as great performance. It's the first choice for many buyers, especially office workers who pay a lot of attention on the datas protection.
HP EliteBook Series
Download file Bios hp laptop password secara gratis dan free download Bios hp laptop password tool. Adspntr.info membagikan banyak Bios hp laptop password tool premium secara cuma-cuma. Tag cloud: Bios hp laptop password, flash bios windows 10, update bios, Bios hp laptop password boardview, schematics. I think a choice between HP System Software Manager (SSM) and HP BIOS Configuration Utility (BCU) is based on a personal preference and number of computers to deploy and maintain. BCU and SSM may be using different HP Password Encryption Utility (HPQPswd.exe). If you would receive Return code=0x103 try another HP Password Encryption Utility to. With LBE now you can Clear any HP Bios Password Directly from Bin File for more information skype: hpwlab whatsapp: 9946. You need to contact HP support to receive a personal SMC.bin for your laptop, they'll need the serial number and UUID, still need to make a 2gb partition on.
G1
EliteBook 750 G1
EliteBook 820 G1
EliteBook 1030 G1
EliteBook Folio G1
......
G2
EliteBook 725 G2
EliteBook 850 G2
EliteBook x360 1020 G2
EliteBook Folio 1040 G2
......
G3
EliteBook 755 G3
EliteBook 828 G3
EliteBook 1040 G3
EliteBook x360 1030 G3
......
G4
EliteBook 725 G4
EliteBook 850 G4
EliteBook 840r G4
EliteBook 1040 G4
......
G5
EliteBook 735 G5
EliteBook 830 G5
EliteBook 840 G5 Healthcare Edition
HP EliteBook 755 G5
......
If your computer is HP Elitebook and have you forgotten HP Elitebook password, bios or administrator account password? How to do if both of them lost? It seems hard though there may be lots of ways that can solve it. But if we talk about it separately, such as in two parts, HP Elitebook password reset would be not so difficult.
Part 1: How to Reset Forgotten HP Elitebook BIOS Password?
Generally, there are two ways to reset forgotten BIOS password. One is forcing BIOS/CMOS to reset itself to its stored defaults by removing all power from it. The other is to use a program to either locate or identify the password, and reveal it to you or erasing the password clearly.
And the most easiest and convenient method for erasing dynamic BIOS/CMOS settings is to remove battery directly from the motherboard. However, it applies to most motherboards besides HP Elitebook BIOS. Fortunately, HP Elitebook based on UEFI Bios provides a tool to reset BIOS password specially – HP SpareKey.
What's HP SpareKey?
HP SpareKey is a utility that helps you, or the administrator of the computer, recover lost system passwords, such as the power-on, drive lock, or BIOS passwords. When setting up the SpareKey, you are prompted to provide answers for a sequence of three predetermined personal identification questions.
How to reset BIOS password with SpareKey?
Step 1: Before forgot BIOS password, you have set answers to three predetermined personal identification questions.
Step 2: Write down the answers to these questions and put them in a safe place, away from the computer, so that you can always access them.
Step 3: When you cannot remember the password to access the BIOS on your computer, turn on the computer and immediately press the ESC key to display the Startup Menu. And then press the F7 key.
Step 4: HP SpareKey wizard pops up and prompts you for the answers to the three personal identification questions. If you successfully answer the questions, you are granted access and you can reset the password.
(The picture is from https://support.hp.com.)(The picture is from https://support.hp.com.)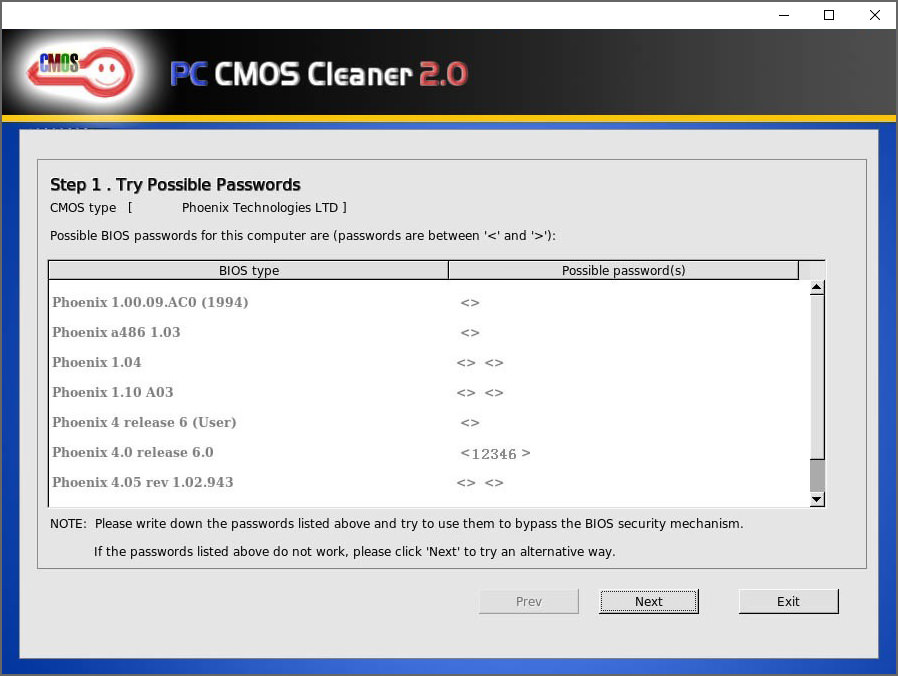 If you do not answer the questions correctly in the three attempts, you will be locked out of your computer. And then you must contact HP for assistance.
Note: HP SpareKey cannot help you recover Windows 7 or Vista administrator account password. It is intended solely to recover system-level passwords. So if you have problems about HP administrator password reset , go on to see Part 2.
Part 2: How to Recover HP Elitebook Administrator Password?
Since HP SpareKey couldn't reset HP Windows 7 administrator password, we have to think of other ways to recover HP Elitebook administrator password. For example, restore HP Elitebook to factory settings or reset HP Elitebook Windows login password with Windows Password Genius.
Method 1: Reset HP Elitebook Password by Factory Reset
This method will tell you how to restore factory settings in Computer Setup.
1. Turn on or restart the computer, and then press ESC when message is displayed at the button of the screen. Message: Press the ESC key for Startup Menu
2. Press F10 to enter computer setup.
3. Use a pointing device or the arrow keys to select File Restore Defaults.
4. Follow the on-screen instructions.

5.

To save your changes and exit, click the Save icon in the lower-left corner of the screen, and then follow the on-screen instructions.
Surely, this method can reset HP administrator password, but HP laptop data would be lost after restoring HP laptop to factory settings. So it is not recommended unless you don't have another method.
Method 2: Recover HP Elitebook Password with Safe Windows Password Genius
Compared to method 1, this method is safer and more effective for HP Elitebook password reset. If you decide to use Windows Password Genius, you should prepare a blank and bootable USB flash drive or CD/DVD-ROM, and accessible computer before resetting HP password.
Step 1: Download and install Windows Password Genius Advanced version.
Step 2: Create a password boot USB disk or CD/DVD with Windows Password Genius Advanced.
Step 3: Boot HP Elitebook laptop from USB or CD/DVD ROM device by pressing F9.
Hp Bios Password Cracker
Inset the USB password reset disk to the locked computer firstly and then start or restart the locked computer.
Press the boot menu key(F9) quickly When the vendor logo appears.
Choose USB flash drive and press 'Enter' to boot from USB disk when boot menu appears.
Tips: The way to boot from CD/DVD ROM is same with booting from USB devices.
Step 4: Reset HP Elitebook Windows 7 password after selecting administrator in user list and clicking Reset Password button.
Want to get more detailed introductions about reset Windows password with Windows Password Genius Advanced? Please see the user guide of Windows Password Genius Advanced.
Related Articles:
Comments are closed.